The 2021 Subaru Love Promise Community Commitment Award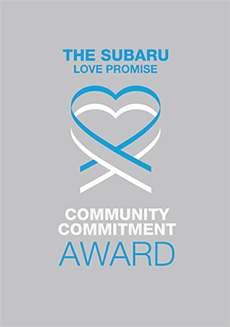 We've been nationally recognized for our dedication to our community and the Subaru Love Promise.
We're honored to receive the 2021 Subaru Love Promise Community Commitment Award. This award nationally recognizes Subaru retailers who are making the world a better place while demonstrating an outstanding commitment to supporting passions and causes in local communities. These efforts are focused in important areas such as the environment, community, health, education, and pets.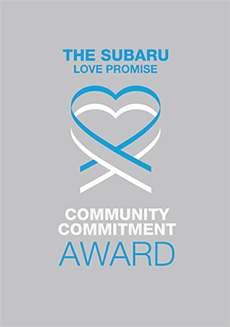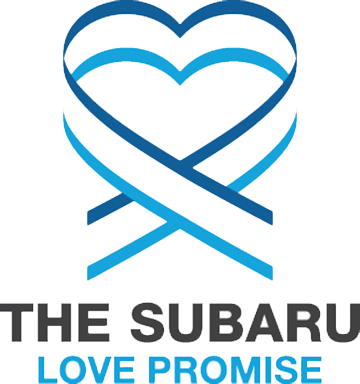 What is the Subaru Love Promise?
Subaru and our retailers believe in making the world a better place and the Subaru Love Promise is our vision of respecting all people. This is our commitment to show love and respect to our customers and to work to make a positive impact in the world.
How is Belknap Subaru dedicated locally to the Love Promise?
Our Love Promise can be seen in various partnerships with local charities and non-profits. We're grateful for the opportunity, not only to be a part of our community, but to serve it as well. We are a sponsor of the Easter Seals Land and Lake Poker Run. This annual event raises money to help Easter Seals fund it's numerous programs for Children with special needs, veterans, and others who might need help! This event raises money in a part of the state that really needs help. We are also proud to participate in the Cash for Cans program. This program helps raise money to help feed people in the Lake's Region during the holiday season. We work with Jeffrey Levitan and Jeff Fisher, of the Northeast Radio Group...they are the heart and soul of this effort. We Support Barbara Blinn and her program at Winnisquam Regional High School, the Tilton Dare program and many other smaller groups. Our customers love their pets, and so do we, supporting local shelters, like the NH Humane Society, and offering a pet friendly environment at our dealership. We love the arts and are sponsors of the Winnipesauke Playhouse, and the Interlake's Theater company. This year we have selected Every Child id Ours, a local charity the seeks to make sure no child goes to bed hungry! Their work is inspiring...and we are very excited to partner with them in this exciting program!
The New Hampshire Humane Society
The Winnipausaukee River Trail
Winnisquam Regional High School, Tilton Dare, Union Sanborn School
Every Child Is Ours (Tilton), Cash N Cans, Winnipesaukee Playhouse, Interlakes Theater Company, Easter Seals
Lake's Region General Hospital
Love Promise Stories from Belknap Subaru
Subaru and Belknap Subaru believe in making a positive impact on the communities in which we live and work. We uphold that belief through our Love Promise Community Commitment. Every month, we select inspiring stories from customers and partners from around our area who strive to support our collective commitment and feature them here
Belknap Subaru Loves Art - Pat E
Dear Belknap Subaru, Thank you for your generous donation to the Lakes Region Art Association. Your donation is instrumental in the success of the Art Association, and the programs, community projects, and scholarships we offer. Part of our "Business Sponsorship Program" is to acknowledge "Patrons of the Arts" on our website (with logo, if you supply a copy of the logo). Your business name is posted in the Gallery and in our newsletters to members and customers. I want to make sure the name of your dealership is spelled properly. Please supply the name and location, and copy of the logo if you want it included on our website. If you have any questions please feel free to contact me by email or (603) 472-3733. Thank you again for your generous donation. All the best, Pat Edsall VP Lakes Region Art Association/Gallery 120 Laconia Road, Tanger Outlet, suite #300Tilton, NH 03276
---
Love Promise Kept - Christine P
Easter Seals works hard to provide services to communities that are often underserved, or worse, without any services, for those who need it most. We work with families, many of whom are overwhelmed by issues that would be difficult for anyone to handle by themselves. We are there to help them navigate to a better place. Our services include Child Development Centers and Family Resources, Early Supports and Services, Autism Services, Residential & Educational Services, Transportation Services, Camps and Recreation, Community-Based Services, Workforce Development, Military & Veterans Services, Senior Services, and Substance Abuse Treatment. We could not do these things without the support of long-term partners who understand our mission and are willing to help raise the funds that pay for these critical services. Belknap Subaru is a great partner. Mark Johnstone, Scott Ives, and his team can always be counted on to help get the job done. Year after year they have worked on the HK Powersports Land and Lake Poker Run. They run one of the check points…they call it the Pit Stop. It is a place for our participants to register and have some fun. The staff at Belknap Subaru run a barbecue. Hot dogs, smiles, prizes, and games to keep our supporters enjoying the day. As one of our sponsors they have consistently provided financial support and are active participants in the event. Belknap Subaru keeps the Love Promise…and we are extremely grateful to have them as our partners! With Thanks, Christine Pederson Senior Director of Events & Corporate Relations Easterseals New Hampshire, Inc.
---
New Hampshire Tourism - Amy L
Our mission is to tell the amazing story of businesses in New Hampshire's Lakes Region. The Lakes Region of New Hampshire Tourism Association is the official tourism board of the region, representing close to 100 communities, 273 lakes and ponds, and more than 430 businesses in central New Hampshire, including area attractions, restaurants, retail establishments, accommodations and more. It promotes central New Hampshire as a year-round travel and vacation destination to bring more visitors to the area and economically benefit member businesses. We are based in Tilton NH. Dear Scott and Belknap Subaru, Thank you so much for your continued support and sponsorship, for our Sweepstakes by the Lake fund-raiser. We had a great event. We wished you could have joined us. Everyone loved the Halloween Theme! It was really nice to see everyone's smile instead of masks! Thank you for all you do. Amy Lander NH Lakes Region Tourism Association
---
NH Humane Society - Charles S
Dear Friends, Thank you for your generous gift! We will use it towards our first annual Compassion Golf Tournament! Your sponsorship has an immediate impact in the lives of so many creatures who find their way to our door in need of care and comfort. The NH Humane Society is an animal welfare and rescue agency whose mission is to provide shelter for lost, abandoned, and unwanted animals, and find responsible and caring forever homes for them. Your gift makes a life-changing difference to over 1,000 animals that cross our threshold each year. On their behalf, we thank you for your help. With the Sincerest Gratitude, Charles Stanton Executive Director NH Humane Society
---
Our Community Cares, Every Child is Ours - Lisa D
Share the Love…to us at Our Community Cares, Every Child is Ours, it means my local Subaru Dealer understands the challenges we face. It reminds us that businesses aren't just there to make money for themselves. It means that when big problems present themselves, good people can make a difference. Hunger is a real problem. It is especially sad when it is a child. As a local organization, we used to spend hours, and hours, of time, trying to raise money to help feed hungry kids! Even after spending a lot of time doing that, we used to have a very limited ability to make an impact. Subaru, and Belknap Subaru changed all that…Our mission is to feed hungry children…it is to provide for those kids in our community who through no fault of their own, have no food in the home. We do that, discreetly, through our local schools. Teachers know who comes to school without food, or without a winter coat, or any number of things we view as essential. Because of Share The Love, and Belknap Subaru, we now have the means to make a big difference. We help kids all over our school district, get the food, and essentials, many take for granted, in a way that does not embarrass, or single out the child. Subaru, and Belknap Subaru are partners we can rely on…and the children we serve, may never know about your generosity, but we do…and we are ever grateful for the difference you make! Gratefully Yours, Lisa and Chuck Drew
---
Saving EVERY SINGLE ONE! - Charles S
Belknap Subaru and the New England Subaru group have done such amazing things for our community and region and, particularly in the way of caring for pets. New Hampshire Humane Society is one of many organizations in the New England region that has benefitted from Subaru's generosity, compassion, and passion and we wanted to share a story about Buddy and Oliver. Buddy is a very good boy who was hit by a car. A neighbor realized Buddy's owner had left Buddy without care for several days so Buddy ended up with us. He was malnourished, covered in fleas, and his back leg was badly broken. Even in horrible pain, his tail wagged constantly but he needed care. Around the same time, our new little friend Oliver was brought to us. He had been abandoned alone in the basement of an empty house. We found him emaciated, with a badly injured leg, and scared. With our love and care, he is now ready for a new home and loving family. Both of these pets have been saved and rehomed during the Subaru Loves Pets partnership and support from Subaru allows us to continue providing life-saving care. There are so many more pets just like Buddy and Oliver and we want to help EVERY SINGLE ONE! With help from Subaru, we are another step closer.
---
Greater Tilton Family Resource Center - Michelle L
This evening I was reading numerous write-ups of many of our local community partners to Belknap Subaru who were grateful… and I sit here also thankful for their many contributions to community needs, programs and goals. I think it is no wonder that they have been recognized nationally for the great contributions and outstanding commitment they have shown to our local community. The Greater Tilton Area Family Resource Center and Franklin Area Family Resource Center are the latest beneficiary of their generosity. Our mission is to empower individuals, families and the greater community to wellness and self-sufficiency through community collaborations, education and support. Our programs vary, but our view that everyone needs a little help sometimes is often realized and supported by our being a connector of resources to individuals who could use the help the resource represents. This holiday season, we are excited to say that Belknap Subaru stepped up after a conversation our director had with their 'director' (or GM as the position is referred to in the Automotive Dealership world), and cases of blankets were delivered by the Belknap Subaru team for distribution through the community just in time for the cold season to hit our neighborhoods. In the age of COVID-19, it has been difficult to collect needed items to beat the cold because of the concern of community spread. We have not been able to collect and deliver the donated gently used items of the past because of the precautions necessary to protect our community. Having these new blankets meets a great need in our community, and we are very grateful to the team of Belknap Subaru for making this happen. Thank you… while these will provide physical warmth to many, they have also warmed the hearts of staff here as they pass on these blankets to those who will use them. From the Director Michelle Lennon, and our staff of the Greater Tilton and Greater Franklin Area Family Resource Centers
---
Bread and Roses Kitchen - Claire W
Dear Friends, Thank you so very much for your very generous donation to the Bread and Roses Kitchen. The Board and all its volunteers are looking forward to being able to serve meals again soon, to the needy of our community. These are such trying times and we want everyone to be safe, when resuming operations. When we do, your donation will be used to purchase items needed for those meals. Thank you for your thoughtfulness! Regards, Claire Wallace Treasurer
---
Huot Center Technical School - Lisa D
It feels great to see students learning about the Subaru product. It is exceptional to partner with the local dealership, and Subaru of New England! They have proven to be an excellent resource! Our students agree... "Thank you for donating parts to the Huot Automotive Center, I am looking forward to working with them!" "Thank you to Belknap Subaru and Subaru of New England, for donating 3 engines, and a transmission, it will help us learn how to take them apart and put them together. It will greatly expand our knowledge." Said Bill Stanyan, Belknap Subaru's Service Manager " These young people are thirsty for knowledge...and Subaru is a fun car to learn about! We are happy to help Lisa, and her Dad with this effort!
---
Tilton Senior Center - Pat C
Dear Ladies, and Gentlemen, Thank you for your generous check for $500.00 to be used for the Senior Center Bus needs. Your gift will allow us to continue to work toward the transportation needs of our senior citizens. Our community has done so much to show support for the senior center and companies such as yours, have helped to make the senior center the success that it is. Again, thank you for your very generous donation. Your caring support will enable us to continue to bus our seniors to the places they need or desire to go. Sincerely, Tilton Senior Executive Committee
---
Every Child Is Ours - Winnisquam School District - Lisa D
Thank you Belknap Subaru for supporting Every Child Is Ours. With your donation, we are able to feed many more families. We are also able to give more items in each bag that goes to our kiddos. During this Covid Crisis, we are also able to supply more families in need due to your overwhelming generosity. Thank you so very much from all of us at ECIO.
---
Alton Centennial Rotary sharing the Love - Duane H
Dear Subaru, my name is Duane Hammond and I'm the 2019-2020 President of the Alton, Barnstead, New Durham,Centennial Rotary Club here in New Hampshire. Late last fall I brought my Subaru (love it) to BelknapSubaru for its regularly scheduled service. At this time, our club was engaged in organizing an event to be held during Alton's Annual Winter Carnival , Feb. 16, 2020, on the shore of Lake Winnipesaukee, in Alton Bay. The event planned was a contest for both kids and adults titled: 'A Buck a Puck'. For $1.00 per puck, contestants would shoot a puck using a hockey stick toward a backboard with an eight in. hole cut at its base, 30 ft. away, (closer for kids up to 12 yrs.) through which you'd try to score a "goal" and win a prize. The one thing we lacked was a sponsor so we could raise money for Rotary's charitable giving. While in the waiting room, enjoying my cup of complimentary coffee, I decided to go ask if General Manger of Belknap Subaru, Scott Ives, would be willing to sponsor our fund-raiser. Without hesitation, he said "YES".Long story short, the 'A Buck a Puck' contest was a huge success, over 100, both adults and kids took their chances to 'score' for charity. Rotary raised a substantial amount of money, all of which is was pledged to improve and save lives. Without Belknap Subaru's financial contribution this whole event would never have happened… and for that, Rotary can't thank Subaru enough. If this isn't "Sharing the Love", then what is? Yours in Service Above Self Duane Hammond President Alton, Barnstead, New Durham Centennial Rotary
---
Belknap Subaru Loves the Arts! - Pat E
February 2020 Dear Scott, Just a quick note to thank you for your generous support of the arts, and the Lake's Region Art Association Gallery. The reception was perfect. The food, and drink...delicious. We enjoyed meeting your staff, as well as your loyal customers. We look forward to continuing our relationship as part of this community, and members of the LRAA. All the best, Pat Edsall
---
American Cancer Society - Kathy M
Dear Belknap Subaru, On Behalf of the American Cancer Society and many Volunteers and participants involved with Making Strides Against Breast Cancer of the Greater Lake's Region, I would like to Belknap Subaru for your donation.The 2019 Making Strides Against Breast Cancer, which took place on Sunday, Oct. 6th, was a tremendous success. Almost 400 Striders in Laconia raised almost $54,000 to help fight breast cancer and provide services to patients. We could not have done it without your support. Because of your passion and generosity throughout the year, the American Cancer Society is able to help more people facing breast cancer-not only in our community but in communities everywhere. You make it possible for us to invest in groundbreaking research, provide free rides to chemo and places to stay near hospitals, and 24/7 answers and support for those facing the disease. Thank you for your generosity; it was a pleasure working with you on such a worthwhile event. We look forward to your support next year and throughout the year in the fight against cancer. If we can be of any assistance to you, feel free to contact us at 512-490-8787. On Behalf of Making Strides Against Breast Cancer Committee sincerely, Kathy Metz Community Development Manager Making Strides Against Breast Cancer of the Greater Lake's Region
---
Belknap Subaru Supports NH Humane Society! - Brooke P
Belknap Subaru has been a great friend to the NH Humane Society. They donated to help sponsor our first Ruff & Radical 80's-themed, dog-friendly, 5K this fall, and then used the entire month of October to collect donations of much-needed supplies for our shelter. They ended up filling our van with donations for the dogs and cats here, and added to the cash donations made by some of their customers, too. We thanked them by bringing two adorable puppies with us when we went to pick up the supplies. I am proud to be a long-time Belknap Subaru customer! They take good care of their customers and their community.
---
Barbara Blinn's Classroom - Barbara B
Dear Belknap Subaru employees, management, and Customers, That was so nice of you to bring us supplies, and snacks! We appreciate the fact that you care for all of us in Ms. Blinn's class at the WRHS-SAS program. Sincerely, Barbara Blinn B. Johnson and the students You are the "Best" Dealership...Thanks Again.
---
Anderson Ganong Cancer Center @ LRGHealthcare - Karen R
Anderson Ganong Cancer Center recenlty received blankets and art kits from Belknap Subaru and their partner The Leukemia & Lymphoma Society to be given to our patients. Heartfelt notes of hope and encouragement written by local students and community members were also included with the blankets. This is a difficult journey for our patients and the blankets and the thoughtful notes will offer a bit of warmth and brighten the day of so many patients receiving treatment. Thank you to Belknap Subaru and Leukemia/Lymphoma Society for their thoughtful gifts and their continued support of out patients.
---
Tilton Senior Center Receives $500 - Cindy C
On behalf of all the participants at the Tilton Senior Center, these lovely ladies say "Thank You!" to Belknap Subaru for their donation of $500 to the TSC Activity Fund. Through Community Action Program Belknap-Merrimack Counties, Inc. the Tilton Senior Center is open Monday-Thursday to provide wellness classes, educational sessions, health clinics, nutritious meals, entertainment, socialization, and fun! Belknap Subaru's generous donation will help keep many programs free for participants! Thank you! Linnia (seated) and her Subaru are still going strong! After 31 years and 143,921+ miles her Subaru is still getting her to where she wants to go, which of course includes going to the Tilton Senior Center!
---
Belknap Subaru Plays a Roll in Raising $118k! - Christine P
For 19 years, the Lakes Region has played host to the HK Powersports Land & Lake Poker Run for Easterseals, of which Belknap Subaru has been one of the sponsors since 2010. This year's event raised over $118,000 for the clients and families of Easterseals NH and we are truly grateful to all of our generous friends and sponsors! Belknap Subaru not only serves as a sponsor, but the dealership also promotes the event throughout the summer to their friends, family and customers. They also serve as a checkpoint for the participants to enjoy, and play a role in the big celebration at the Naswa at the end of the day. We are honored to have the support and friendship of Mark, Scott and their entire team at Belknap Subaru! Share The Love is their biggest give-back initiative, but they truly WALK THE WALK and TALK THE TALK...and really do SHARE THE LOVE! With Heartfelt Gratitude, Your friends at Easterseals NH
---
Newport NH Little Free Pantry - Genara C
I've been working to set up Little Free Pantries in our gorgeous state of NH, for about two years now. Little Free Pantries are similar to little free library's, except they hold health and food items, to help fight food-insecurity. About a month ago, I was at Belknap Subaru for an oil change, and decided to share my idea with Scott Ives, about setting up a second LFP in Newport. He loved the idea. Without hesitation, he pledged $100 to help me reach my goal of $500. After a few days, I checked my go fund me account, and saw that Scott had donated $200.00, to get me to my $500 goal. I was overwhelmed by the generosity, and compassion for this cause. I have since ordered the pantry, and am anxiously awaiting it's arrival. I can't thank Belknap Subaru enough for their kindness and generosity. Thank you, from the bottom of my heart.
---
Timmons Team 5K Walk/Run for Alzheimer's Research - Colleen T
Ginny Timmons was diagnosed with Alzheimer's Disease in 2012. To assist in the search for a cure, she entered into a research trial at Boston University's Alzheimer's Research Center. Ever a person of action, she then organized the first annual Timmons Team 5K to raise money for BU's Alzheimer's Research Center less than a year after her diagnosis. The Timmons Team consists of her 9 children and their families. The race, held in Tilton, NH, just held their 7th annual event. Belknap Subaru has been a generous supporter over the last several years. Most recently, they presented Ginny with a check for $550 to donate to BU in 2019. Many thanks to Belknap Subaru for donating to a cause affecting so many, both nationally and closer to home. Your support over the years has been so very appreciated by The Timmons Team!
---
Belknap Subaru creates Reading Nook - Carolyn M
April 2019 New Hampton Community School would like to officially THANK Belknap Subaru for once again stepping up to support our local community school. They are always thinking outside the box when it comes to giving back, from helping raise funds for teachers battling cancer to donating comfy leather chairs to create a "reading nook" for students. Their most recent donation is fully appreciated and actively being used by our students on a daily basis to nurture their love of reading. Kids are choosing to read more and loving every minute of it! Sincerely, New Hampton Community School Staff and Students
---
Share the Love - Every Child Is Ours - Lisa D. - Lisa D
Thank you Belknap Subaru for selecting Every Child Is Ours (Local Chapter-Our Community Cares) as part of the Share the Love Program. Because of your generosity, we were handed a check of over $20,000 to help children and families in need within the Winnisquam School District. Belknap Subaru and employees went above and beyond to get as much support from buyers as possible. Belknap Subaru is truly a great place and always there for its community. Thank you so very much.
---
BS Provides Turkeys for Local Families in Need - RACHEL S
Belknap Subaru generously donated 25 turkeys for every holiday meal that the Tilton Northfield Rotary provided. While this act in itself was very generous, the story is more about the kind of person that Scott Ives is and his reputation locally as a concerned and humble member of our community. He represents Subaru very well. Scott did not request credit or recognition for Belknap Subaru, but rather the assurance that every family was able to have a turkey dinner for the holidays. There are many more stories about Scott's involvement with the community and his kind-hearted way to use his creative expertise and leadership skills to support the people and organizations around him to make the world a better place for all of us. If you don't know him already, I highly recommend you make a visit and get to know him better. He embodies Subaru's Love Promise.
---
Belknap Subaru Partners with Alton Rotary - Duane H
Thank you for your generous support of the Alton Winter Carnival. This fundraiser supports many important local organizations...we greatly appreciate your help!
---