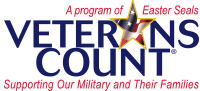 Belknap Subaru Supports the Mission...

To provide critical and timely financial assistance and services when no other resource is available to veterans, service members and their families, to ensure their dignity, health and overall well-being.
Their Story
It Began with this Question: "How Can We Help Service Members and Their Families?"
Veterans Count was conceived in 2007 when Easter Seals' Board Member, Mike Salter sought to bring comprehensive, emergency aid to veterans and their families whose quality of life was significantly impacted by deployment to war zones.
A veteran of the US Army Special Forces, Mike and the Easter Seals NH President and CEO, Larry Gammon, approached the NH Joint Force Headquarters (NH National Guard) and the NH Department of Health and Human Services for assistance in designing a compassionate, responsive, highly-targeted care program for veterans and their families who were "falling through the cracks," as a result of service to their country.
Easter Seals developed a Care Coordination model centered on highly skilled clinicians meeting one-on-one with service members and their families to address critical issues while building trust and working toward developing long-term self-sufficiency. Care Coordinators met the immediate presenting needs such as food, shelter, transportation and mental health intervention. Once a trusting relationship was established, Care Coordinators were then able to address deeper issues such as Post Traumatic Stress Disorder, sustainable employment, and long-term housing.
Critical to the services provided by Care Coordinators were the philanthropic funds, which directly address emergency needs while providing a conduit for Care Coordinators to assist veterans and service members with more chronic and entrenched challenges.
As Easter Seals Military & Veterans Services began to execute its mission, it became clear that more community assistance and fundraising was needed to provide adequate aid. Federal, local and national grants provided for the training and services of Care Coordinators. Yet, the need for additional funding for basic necessities such as food, clothing, housing, etc. was apparent. A task force comprised of business leaders was developed and Veterans Count was formed.
Veterans Count has received the highest praise and support from our national and local elected officials and is viewed as a comprehensive and successful model to emulate throughout the country. As more and more service members and their families continue to struggle with the challenges of multiple deployments, the need to provide support continues to grow.
Their Creed

We pledge to serve those who serve our nation with honor, integrity, and rapid response. We will always put our mission first. We will never give up. We will never quit. We will do whatever it takes to meet the critical needs of Service Members, Veterans, and their Families. We respect and appreciate the pledge they have made to serve. Because of their commitment we pledge to uphold these values in our service to them.
Won't you help...