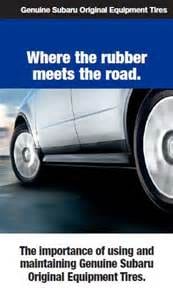 Genuine Subaru Original Equipment Tires,Where the rubber meets the road.
Proper tire maintenance:

Frequently Asked Questions:

How often should I check my tires?


Taking a look at your tires each time you're about to drive your Subaru is always a good idea, a quick walk-around can help you identify potential issues long
before they become problems.
Checking the air pressure of your tires is something that you should do at least once a month (a label indicating the appropriate tire pressure for your vehicle is located on the driver's side door jam). Your Subaru Dealer will also check your tires each
time you bring your vehicle in for service.
How often should my tires be rotated, and why?


Your tires should be rotated about every 7,500miles to help ensure even wear and maximize tread life and performance. Your Subaru Dealer can help schedule and perform this service for you. For more information, please refer to your Subaru Owner's Manual.
When should my tires be replaced?


Tires should be replaced once they reach 2/32" of tread depth. In fact, it is illegal in all 50 states to drive with tires that are below this level. To ensure optimal safety and handling in climates with heavy precipitation, experts recommend replacing tires before they reach 2/32" of tread depth. For more information, please refer to your
Subaru Owner's Manual.
Covering all four corners of safety
with four core technologies
The original equipment tires installed on each Subaru model were selected to perform optimally with each of these four core technologies. The "footprint" of each tire is a critical performance point that helps keep your Subaru safe and
operating as designed.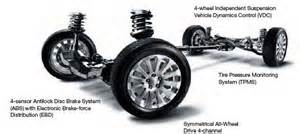 When it's time to replace your tires, it's time to see your trusted adviser at Belknap Subaru.


Why take chances with your vehicle's handling,safety, comfort, or performance? Your service adviser will make sure your Subaru is outfitted with the same high quality, original equipment tires that were installed at the factory.