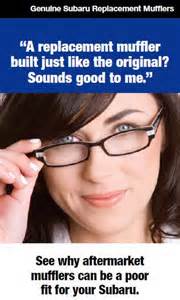 Manufactured to match the fit and function of the original part, Genuine Subaru Replacement Mufflers install easily and securely. They also feature a one-piece, fully aluminized steel construction that's warranty-backed to last. Don't risk the added expense and aggravation that an aftermarket muffler might bring, always
ask for Genuine Subaru Replacement Mufflers.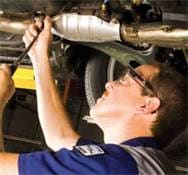 Typical aftermarket mufflers may sound good at first.
But the more you find out about them, the more they sound like trouble.
Aftermarket mufflers don't have to meet stringent Subaru specs, so installation can
be a challenge. Some fit so poorly that they require pipe adapters, clamps, and adaptable hangers. Typical aftermarket mufflers are also manufactured with lower quality materials and often, fewer noise-dampening components. The result? More rattles and exhaust noise, less corrosion resistance, and a much greater
chance that you'll be back in the shop again.

Genuine Subaru Replacement Mufflers:
Advantages No Aftermarket Muffler Can Match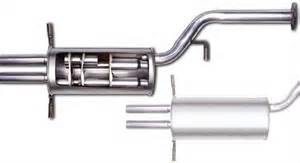 Welded, One-Piece Assembly
 An all-welded, one-piece unit ensures the
exact same fit as the assembly that came with your vehicle. Installations don't require pipe adapters, multiple clamps and adaptable
hangers that never fit quite right.
Fully Aluminized Steel Construction


Aluminized steel protects against corrosion, and sound-absorbing materials subdue noise without hampering performance. 
Specifically Designed for Your Car


Typical aftermarket mufflers are often rigged with adapters and "cross-fitted" to multiple makes and models. Genuine Subaru Replacement Mufflers include mounting parts that match the original assembly for secure, rattle-free replacement.
Warranty-Backed


Our Genuine Subaru Parts Limited Warranty* covers the entire, integrated unit. Typical warranties cover the muffler "box" only. When it rusts out and is replaced, you still pay for the related pipes, adapters, clamps and hangers used during installation.
Competitively Priced


Invest in the quality and precision of theoriginal equipment at a price that matches
or beats aftermarket mufflers.